Beanzie is Presented By Kishwaukee Kiwanis
2014 Sponsors 
Kishwaukee Community Hospital
Northern Rehab Physical Therapy
Resource Bank
Competitive Edge
Unlimited Performance
HyVee
Schnucks 
DeKalb Sycamore Chevrolet Cadillac GMC
Brad Manning Ford
Northern Illinois Waterworks
Ken Spears Construction
3M Community Support Group
DeKalb Park District
Beanzie 2012
Major sponsorship: Kishwaukee Community Hospital http://www.kishhospital.com/
Partnership with Pioneering Healthy Communities through YMCA
Pioneering Healthy Communities   http://dekalbcountyonline.com/pioneering-healthier-communities/
Support from:
Brad Manning Ford http://manningcars.dealerconnection.com
Competitive Edge www.theEdgeus.com
DeKalb Fiber Optics http://www.dekalbfiberoptic.com/
DeKalb Chevrolet GMC Cadillac www.DeKalbMotors.com
Hy-Vee www.Hy-Vee.com
Ken Spears Construction www.KenSpearsConstruction.com
NorthernRehab Physical Therapy Specialists www.NorthernRehabPT.com
Resource Bank http://www.resourcebank.com/classics/calendar.html
Schnucks www.Schnucks.com
Unlimited Performance www.UnlimitedPerformance.org
Water Works www.NIWaterWorks.com
3M http://solutions.3m.com/wps/portal/3M/en_US/CommunityAffairs/CommunityGiving/
Contributions from:
AKtion Club of Opportunity House http://www.ohinc.org/
Castle Printech http://CastlePrint.com
City of DeKalb & DeKalb Police www.CityofDeKalb.com
DeKalb County Sheriff http://dekalbcounty.org/sheriff/
DeKalb Park District www.DeKalbParkDistrict.com
DeKalb Public Library www.DKPL.org
DeKalb District 428 Schools http://www.dist428.org/SCHOOLS/DHS/Pages/default.aspx
Egyptian Theater- Ride Like an Egyptian http://egyptiantheatre.org/ride-like-an-egyptian/
Kishwaukee Valley Bicycle Club
League of IL Bicyclists http://www.bikelib.org/
Malta Fire Department Auxiliary
https://www.facebook.com/pages/Malta-Fire-Department-Auxiliary/244120862274481
MidWeek News www.MidWeekNews.com
MikeBently.com  www.MikeBentley.com
North Central Cyclery www.NorthCentralCyclery.com
Oak Crest Retirement Center www.OakCrestDeKalb.org
Rescue Riders www.RescueRiders.org
Ride MS: Tour de Farms https://www.facebook.com/bikems
Sycamore Key Club www.Syc427.org/highschool/clubs/key
Wild Roses of Women on Wheels https://www.facebook.com/pages/NC-Illinois-Wild-Roses/#!/pages/NC-Illinois-Wild-Roses/103174819718579
WLBK Radio http://www.1360wlbk.com/
YMCA www.KishYMCA.org
4-H of DeKalb County http://web.extension.illinois.edu/bdo/dekalb4h/
Prepared Food Vendors
Aspen Leaf http://www.aspenleafyogurt.com/
Troop 33 Boy Scouts
Food Stops:
1. DeKalb High School, 501 W. Dresser Road, DeKalb, Illinois 60115
2. Jonamac Orchard, 19412 Shabbona Road, Malta, IL 60150.
3. Paw Paw Village Park, Chicago Rd & Chapman St., 362 Chicago Rd, Paw Paw, IL 613534.
4. Wesley Steward Memorial Park (Corner Miller St. & Tyler Ave.) Steward, IL 60553, LaSalle County.
5. Farm at 6016 Fairview Drive, DeKalb, IL 60115, DeKalb County
6. Milan Township Hall 14989 Shabbona Rd. Malta, IL 60150, DeKalb County.
7. Compton Park (First St., Main St., Cherry St.) Compton, IL 61318, Lee County.
8. Rollo Park, 2266 Suydam Road, Earlville, IL 60518, DeKalb County.
Water Stop:
1. Farm at 6183 Shabbona Grove Rd Earlville, IL 60518
2. Willow Creek Township Hall 1203 Paw Paw Rd. Lee, IL 60530, Lee County.
3. Post Office 105 Lee Rd Lee, IL 60530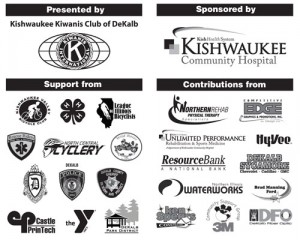 Dear Editor:
   Kishwaukee Kiwanis of DeKalb would like to thank our community for making the 14th annual, 2012 Biking with Beanzie Event a huge success. We had a record event with over 650 riders participating.  Kiwanis is a global organization of volunteers dedicated to changing the world, one child and one community at a time. Profits from this event go to support the Kishwaukee Bike Pathway projects as well as other projects within DeKalb County. Biking with Beanzie is a recreational ride presented by the Kishwaukee Kiwanis Club of DeKalb and sponsored by Kishwaukee Community Hospital. Riders chose from a range of distances between 24 to 102 miles. This year by partnering with the Pioneering Healthier Communities initiative to help promote a healthier lifestyle within DeKalb County we were able to add Community Ride routes of 3 and 5 miles.
     Special thanks to our supporters: Kishwaukee Community Hospital, Brad Manning Ford , Competitive Edge , DeKalb Fiber Optic, DeKalb/Sycamore Chevrolet GMC Cadillac, Hy-Vee, Ken Spears Construction, NorthernRehab Physical Therapy Specialists, Resource Bank, Schnucks, Unlimited Performance, Water Works, and 3M.
Thank you to:  AKtion Club of Opportunity House, Castle Printech, City of DeKalb and DeKalb Police Department, DeKalb County Sheriff, DeKalb Park District, DeKalb School District 428 Schools, Jonamac Orchard, Kishwaukee Valley Bicycle Club, League of IL Bicyclists, Malta Fire Department, MidWeek, North Central Cyclery, Rescue Riders and the Wild Roses of Women on Wheels, Sycamore Key Club, WLBK, YMCA, 4H Clubs.
New this year, thanks to the food vendors: Al's BBQ Shack, Aspen Leaf Yogurt, and the DHS Barb Boosters.  Thank you also to all the communities and people who provided us with rest stop space. Without the support of everyone mentioned and the many more who helped this event would not be possible.
     Kishwaukee Kiwanis club meets weekly on Wednesday, 11:45 a.m.-1 p.m., at Hopkins Park, 1403 Sycamore Road, DeKalb. Visitors are welcome. For more details, visit 
www.KishKiwanis.org
Kishwaukee Kiwanis of DeKalb (Wednesday Noon Club)
Biking with Beanzie Committee
Thank you,
the Biking with Beanzie Team
of the Kishwaukee Kiwanis Wednesday Noon Club
Save the date!  Beanzie will be July 14, 2013
"Like" us on Facebook at www.facebook.com/beanzieride
Follow us on Twitter.com
Beanzie
P.O. Box 1007
DeKalb, IL 60115