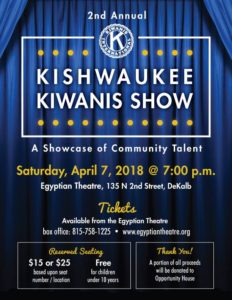 The Kishwaukee Kiwanis Club is hosting its second local talent show on Saturday, April 7, 2018.  The event will be a showcase of community talent in a two-hour show.  All types of talent will be featured including singers, dancers, actors, bands, poets, comics, acrobats, and more.. The show is not a contest, but a display of community talents.
Dress Rehearsal:  Thursday, April 5, Start 6:30 – 9:30 p.m.  (Kiwanians start 6:00)
Kishwaukee Kiwanis Annual Community Talent Show
How to Buy your Tickets- at Thursdays Dress Rehearsal until 7:00 p.m.
Premium Seats – $25.00; Regular Seats – $15.00
1. Visit the Egyptian Theatre Box office in-person on Tuesday, Wednesday, Thursday 3-6:00 to save the $3.00 service fee.
Kishwaukee Kiwanis Show PO Box 1007 DeKalb, IL 60115.